Do you want to Open FD Account On Groww App? or you want to know about process of How to Open Fixed deposit account on Groww App.
Do you want to open a savings account but aren't sure where to start? Groww, a stock and mutual fund investment platform, has made it simple for you. You no longer need to go to the bank to start an FD and earn a significant return on your investment.
Customers can use the Groww app to open and earn a high rate of interest on a bank FD from a variety of institutions. All you need to start a Groww FD is a Groww account as well as the appropriate information and documentation.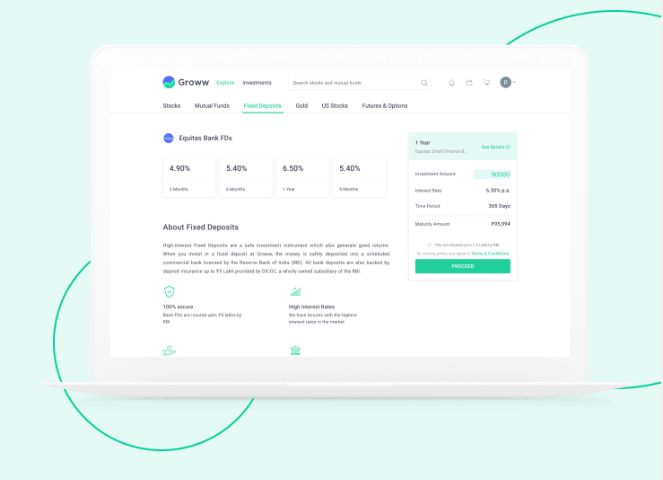 Key Features of Groww
Incorporated in 2016 as a platform for investing in Direct Mutual Funds.
Nextbillion Technology Private Limited is the company's brand name.
Stocks, mutual funds, and digital gold are among the current product options.
Invest in an Initial Public Offering (IPO) online.
With over 90 lakhs consumers, the company has a large customer base.
Don't offer any advice, research, or recommendations.
There is no branch support.
Opening an account is completely free.
There are no maintenance fees.
Groww Account Opening Charges 2023
Groww charges Rs 0 to register a trading account and Rs 0 to open a Demat account. For Demat accounts, Groww charges Rs 0 AMC.
Fixed Deposit Offer on Groww
High Interest Rates
Zero Hassle in account opening
100% secure! Bank FDs are insured up to Rs 5 Lakh
You will get multiple FD options within Groww App
Invest In Fixed Deposit
Trusted by Millions of Indians. Start Investing Today
How To Open FD Account With Groww Account? Step By Step Process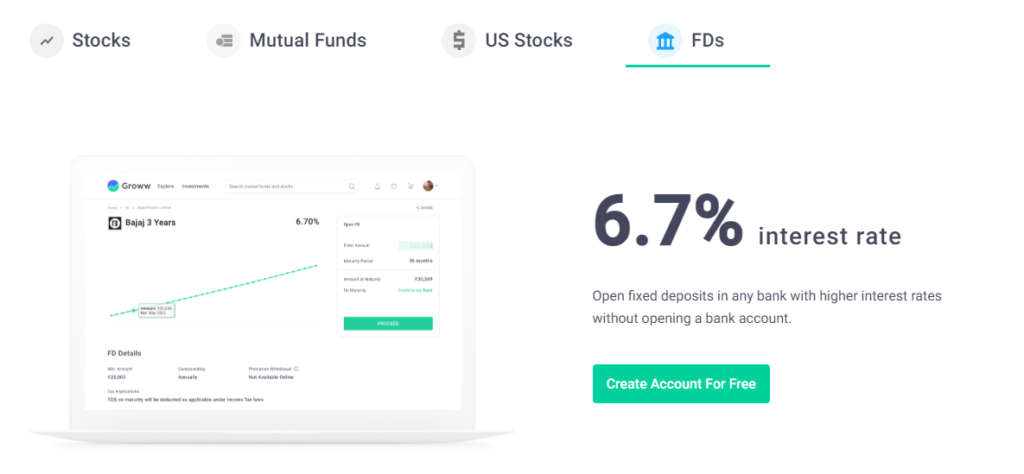 Step 1: On the available app, select the bank of your choice: You may also use the search bar to look for the bank's name.
Step 2: Make a click After you've entered the FD amount, click Next: Upon maturity, the cash will be credited to your primary bank account: To continue, simply click 'Continue.'
(It's important to know that the primary bank account will be debited for the FD payment.)
The minimum deposit is 5,000.
Step 3: Fill up the blanks with your basic information, such as your annual salary range, occupation, level of education, and mother's name: Click next after you've entered the right information in the fields provided.
Step 4: Additional information should be added, such as your mother's maiden name and birth city.
Step 5: The nominee's information must now be filled in: The nominee is contacted if the account holder
is unavailable: If the account holder passes away, the nominee has control over the account: Click Next to continue.
Step 6: After completing all of the necessary information, you can invest in a fixed deposit: The aforementioned information will only be requested once during the initial onboarding process, and you will not be required to provide it again! Click 'Explore FD' to continue.
Step 7: Type in your Aadhaar number after that: Please note that your Aadhaar must be linked to your mobile number in order to proceed.
Step 8: The registered cellphone number connected with your Aadhaar will receive an OTP, which you must enter in order to proceed.
Step 9: You'll be taken to the payment process after you've completed the verification: You can use any of the available payment options to complete the procedure.
Your FD is ready now that you've completed step 9 with all the right information and without any problems!
You'll see a notification that says 'deposit order initiated' on the same screen: To see the status of your order, go to the dashboard and choose the 'track my order' button: Your Groww FD has now been opened with the bank of your choice.
FAQ (How to Open FD Account On Groww)
What is FD in Groww app?
What exactly is FD? A fixed deposit is a type of investment in which you deposit money with a bank or an NBFC for a set period of time and earn interest on it. You can get the principal amount invested with the interest after the FD matures. You can also reinvest this money for a longer period of time.
Is Groww FD safe?
FD investments, on the other hand, are entirely risk-free and guarantee profits regardless of market changes.
Can I open FD account online?
A fixed deposit account can be opened both offline and online. Visit the bank of your choice for the offline process. Fill up the FD application form and attach all required documentation. To complete the process online, go to the bank's website and look for the choices for opening a fixed deposit.
How do I withdraw FD from Groww?
To get started, click the 'DASHBOARD' button below. Click the three-dot menu next to the fixed deposit you want to withdraw. Select 'withdraw' from the drop-down menu. Check to see if any penalties are relevant – Continue to confirm.
Groww now only allows you to withdraw the complete deposit amount, not a part of it.