15 x 15 x 15 Rule of Mutual Funds
SIP calculator: According to the mutual fund's 15 x 15 x 15 formula, an investor can become a crorepati by investing 15,000 every month for a period of 15 years.
SIP calculator: There are several rules that a mutual fund investor must follow in order to maximize his or her profit. One of these is the mutual fund 15 x 15 x 15 rule. An investor can become a crorepati by investing 15,000 each month for 15 years in this mutual fund SIP (Systematic Investment Plan).
According to this principle, if an investor has a long-term time horizon, the mutual fund return will be 15%. However, according to a mutual fund calculator, if an annual step-up of 15% is maintained, one can double one's maturity amount and collect more than 2 crore in 15 years.
If I Invest 15,000 a Month in SIP for 20 years
"It's one of the most outstanding mutual fund investing rules, with an investor becoming a crorepati in just 15 years. The rule is a 15,000 monthly SIP at a 15% annual return for a corpus of more than 1 crore in 15 years."
However, mutual fund investors should increase their investment amount when their annual income rises, Recommended investors to remember the 15 X 15 X 15 mutual fund rule with an extra 15, where the extra 15 represents a 15% annual step-up in monthly investment amount.
A step-up SIP can help you achieve inflation-adjusted returns while combating inflation. It also aids in the development of superior capital, and increasing the SIP boosts the power of compounding. The returns on your investments will be better if you invest a larger amount each year. As a result, you may be able to meet your goal sooner than the initial deadline since you will be able to earn and save more."
According to the mutual fund calculator, if an investor increases their monthly SIP by 15% annually, the 15 x 15 x 15 rule of mutual funds will enable the investor to build 2,07,30,046 or 2.07 crore, almost double the maturity amount.
On mutual fund SIP plans that might provide a 15% return in 15 years
15x15x15 Rule (SIP for 15,20 & 30 Years)
According to the formula, you are likely to become a Crorepati if you invest Rs 15000 each month via SIP in an equities mutual fund that delivers an average 15% return.
SIP For 15 Years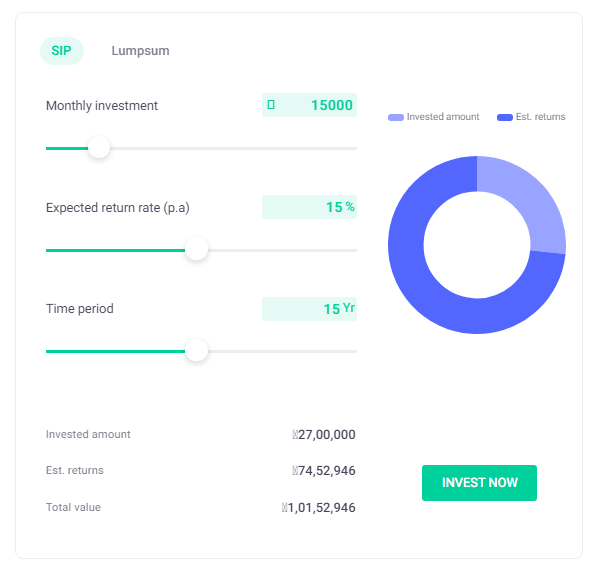 SIP For 20 Years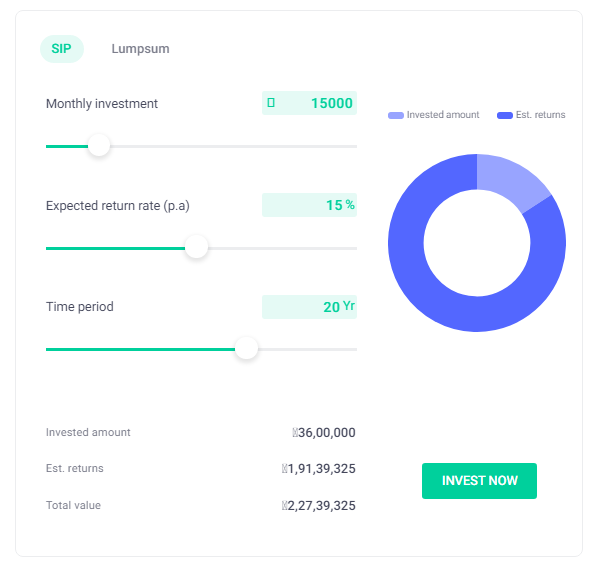 The total amount you have invested is only Rs 27 lakhs ( Rs 15000 x 180 months)
You will make a profit of Rs. 73,00,000.
Similarly, if you extend the above-mentioned period by another 15 years, your wealth increases by tenfold.
SIP For 30 Years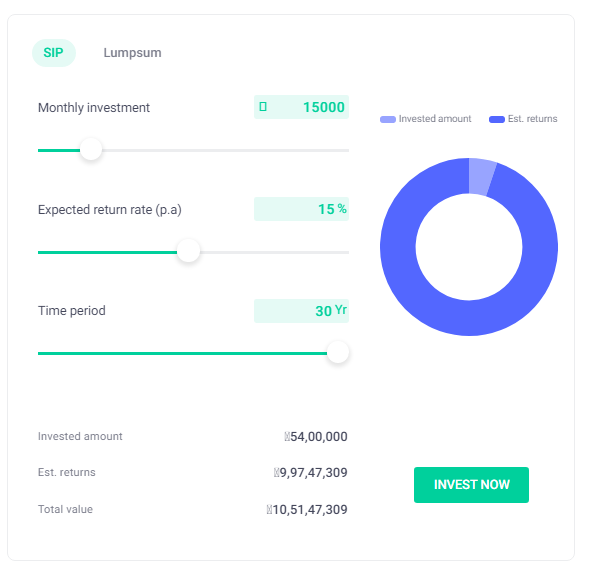 As a result, money invested over 30 years equals Rs 54,00,000 (Rs 15,000 x 360 months)
Profit = Rs 9,84,00,000 (Rs 9.84 crore)
Total Money accumulated – Rs 10,38,00,000 (Rs.10.38 crore)
Start Your SIP Using Groww App
Start / Invest in SIP Online – Groww
Simply use Groww's SIP Calculator, enter the SIP amount, the time period for which you want to invest in the mutual fund and the approximate return expected.